Events / Group Paddles / Social Hours
Stand Up Paddle events in Arizona
At the No Snow shop, we are constantly meeting new and experienced SUPers from all over the city/state/nation. Our dream was to let Arizona know that No Ocean is Required to enjoy Stand Up Paddleboarding. Thanks to all of the amazing people we have met, together we have built one of the most incredible flatwater SUP communities in the USA!
Whether you are a first timer or a surfer from way back, our diverse group of paddlers get together several times a week at various locations. Get to know your emerging community of paddleboarders. BYOB (bring your own board) or rent a board and join us for a social event on the water.
You can subscribe to our events on our
Facebook.com/NoSnowSUP/Events
page, or
email
phone/text
Heather to b
e
added to the news and events email list and SUP Alerts text blast.
Upcoming SUP Community Paddleboard Events
Join us for sunrise or sunset paddles, workshops, workouts, clinics, group paddles, races, vacations, and community events!
---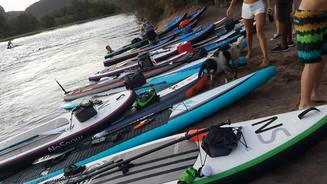 Friday Night Happy Hours
May through September spend Friday nights Happy Hour'ing on the Salt River!
New for 2018 we will have two options;
Paddle Up: About an hour of moderate to intense paddling to the beach.
Float Down: Carpool to drop in upstream and test your white water skills while floating down to the beach. Both options will be rewarded by a beautiful view of the sun setting over Red Mountain, along with hopeful siting of the majestic Salt River Wild Horses, elusive otters, beavers and other various wild life including Bald Eagles. BYOB&B or call the shop to rent a board

​Checkout this great video from Bryce Vrieling covering the Friday Night Happy Hour! Thanks Bryce!
---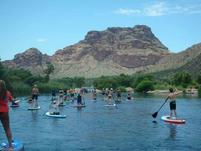 Salt River Runs
SUCH a blast floating the river last year, it's a thing now! Note this is for paddlers with previous experience and worn PFDs are required. Weekly either Saturday/Sunday will meet and carpool from the shop. Inflatables and PFDs are required, subject to weather and cfs. BYOB&B or call the shop to rent a board
​
---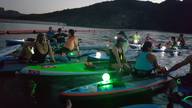 Monthly Moonlight Paddles
Monthly under the moonlight, we try to book within 2-3 nights around the lunar calendar.
Light up like a parade with LED lights, headlamps, marine beacons, anything to make yourself visible on the water. Location/Date/Times vary so call for details. BYOB&B or call the shop to rent a board
---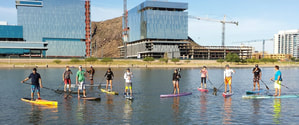 ​Weekly Power Hour
Crack of Dawn 1 hour power hours, +/- 4 miles -all levels and all boards welcome, you can shorten the course as needed. Location/Date/Times vary so call for details. BYOB or call the shop to rent a board
---